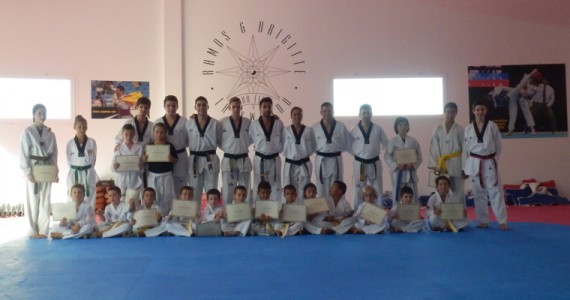 Vuelven las clases en el Club Élite Ramos & Brigitte
Tras un parón vacacional en el mes de Agosto, el Club Elite vuelve a abrir sus puertas a partir del Lunes 1 de Septiembre a las 17:00 de la tarde. Clases para todas las edades y una manera de pasar un buen rato haciendo deporte, aprendiendo un arte marcial y creciendo como deportista con los diferentes grados de cinturones. Si quieres más información y conocer los valores deportivos que te puede ofrecer esta disciplina en las diferentes edades, no dudes en venir ha visitarnos y ver unas instalaciones con amplio espacio y con un gran tatami con las medidas reglamentarias por la WTF (World Taekwondo Federation).
Clases por edades:
Infantiles(4 a 7 years old).
Precadetes y cadetes (8 a 13 years old).
Juniors (13 a 16 years old).
Senior (+ of 16 years old).
Adultos (+30 years old).
Posibilidad de abrir nuevas clases con amplia flexibilidad horaria.
Entrenador.
José Luís Méndez
Maestro Nacional de Taekwondo 4º DAN
Member of the National Team of Taekwondo (1999-2013), Prize for the best athlete of the year 2006 y Medalla de Bronce al Mérito deportivo 2012.
Participante como suplente y sparring en los Juegos Olímpicos de Atenas 2004, Beijing 2008 and London 2012.
Champion of the Mediterranean Games (Turkey 2013).
Campéon de la Copa del Mundo (Bangkok 2006).
2 veces Campeón de Europa por Equipos (Madrid 2002-Francia 2004).
Campeón de Europa Junior (Chipre 1999).
7 Absolute times Champion of Spain.
Ahora ya no tienes excusas!!! Que nada te detenga para practicar Taekwondo Olímpico y Federado con todo lo que necesitas..
Hasta mañana!